Growing Old Sucks! We've all said it. Sure, there are some bad things about getting older, but the good things far outweigh the bad. As we age, we gain experience and wisdom (at least some of us do), we mellow and ripen (some of us smell like old cheese too) and we have freedoms that we never had while we were young.
Growing Old Sucks is a set of tips and topics designed to help you have the best years of your life. This is not an anti-aging book. Anti-aging just doesn't make sense. If you stop aging, it means you're dead. If you reverse aging is that reliving your 20s? Do you really want to go there – but not have the years of experience you have? Growing Old Sucks shows people over 50 how to have fun and dance through the rest of your life.
From sex to dining, relationships to work, Growing Old Sucks illustrates how you can have the life you've always wanted. This is the best time of your life.
Most importantly, this book will show you how to age with attitude, taking a stand that growing old really doesn't suck!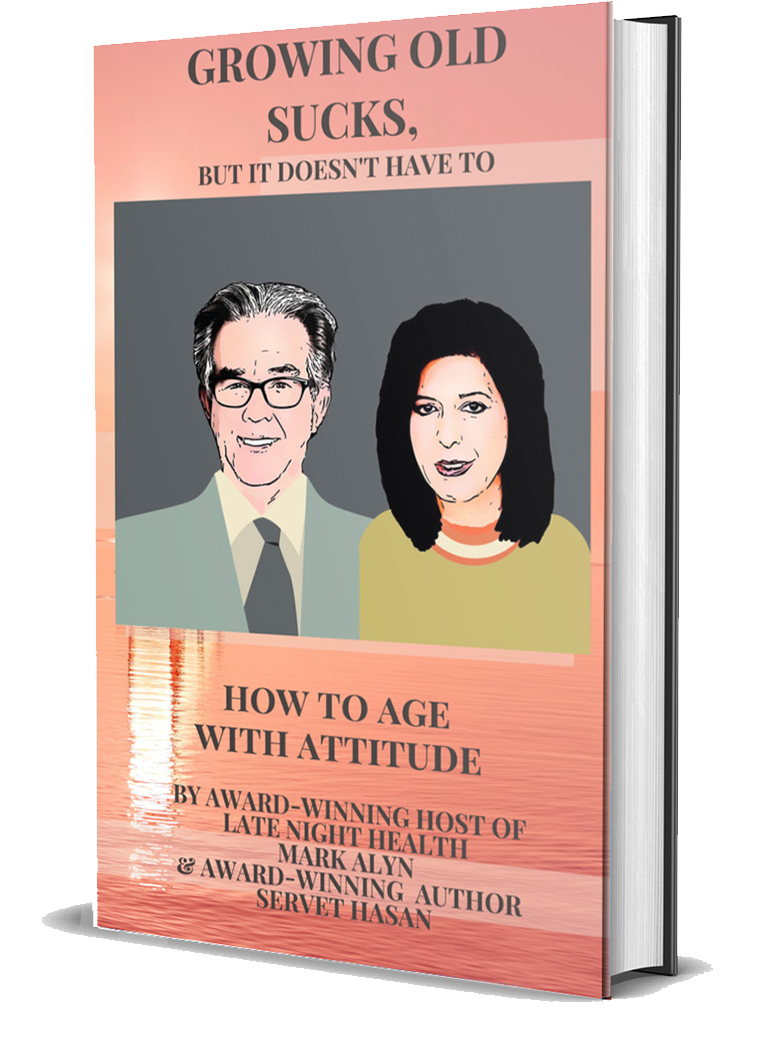 "Growing Old Sucks – But It Doesn't Have To" will be available soon. Check back often for more information! 
You can order the Kindle Edition book here for 99¢ and the softcover for $7.95
Frequently asked questions
Hell NO! We're good friends and will never be involved in that way. We're like a brother and sister. Mark has been happily married to Carole for 42 years. 
Servet is happily single, but is now ready to look for that special guy in her life. 
Why Do You Guys Talk About Sex So Much?
We really don't think we do. But studies show that both men and women think about having sex all the time. Many people think that once you reach a certain age sex is over. It's not true. We just believe you should keep practicing until you get it right!
Growing Old Sucks, But it Doesn't Have To is the perfect blend of humor and practical advice on how to no longer measure age as a number, but rather by its eternal impact on our lives and the lives of those around us. The number of years we spend on earth is irrelevant. It's how we live those years that count." -
"Growing Old Sucks, But it Doesn't Have To is wonderfully charming and funny, yet very intimate and profound. It will inspire you to open up to new possibilities and opportunities in your life. Getting older isn't just about becoming wiser. It's about learning to be vibrantly alive, joyful, productive and grateful as well as embracing the many miracles and gifts that come with it. This book is a winner!" -
"Intentional living can happen at any age. You choose it. This book makes the beauty and brevity of life a laugh out loud party, complete with family, friends and ongoing growth. Live it up!" -
"In Growing Old Sucks, But it Doesn't Have To, Mark Alyn and Servet Hasan took Mars and Venus and brought them down to Earth. They not only convince you that aging can be fun, but that it can be enlightening and meaningful as well. By offering us their own life challenges, stories from fellow boomers and professional experts they shed new light on how to age with a real attitude. An uplifting must read!" -